Two Geeks & a Dog
Some of you may recall that I got a sister in law last December when my baby brother, Geek (aka Jim, although, honestly, I've called him Geek since he was in his teens.) got married. Mrs. Geek (aka Melissa or Mel) is a sweet, trusting gal, probably too sweet to be part of a family that includes Mark.
Those of you that know Mark know that he has a very quick and sharp wit. Many times it is so sharp and quick it can offend. Some times intended, sometimes not. For that reason, I spend a lot of time filtering for him - filtering stuff before it gets to him, filtering stuff before it gets to other people. My life is smoother and easier that way.
Now imagine my dismay when Mark cc'd me on his reply to an email Mel had sent directly to him at work. This is just simply not supposed to happen. I knew trouble was brewing.
Turns out Mel had approached Mark on her wedding day and asked if she could have a puppy. He apparently said 'sure' (which Geek wisely assumes was said to make her stop bothering him), so she was now emailing him to ask for a Grover/Kara puppy (You just have to admire folks that aim high * grin *).
Anyway, Mark advised her that puppy sales had nothing to do with him and that she would have to ask me. He further went on to tell her that a puppy might be more then they could deal with at this point in their life, but generously (so she thought) offered her a good deal on one of our older dogs - Spud.
I just know some of you are saying 'but didn't Spud.' - yes, he did. Don't get ahead of the story.
Anyway, Mel was delighted and excitedly shared the news with Jim that Mark was willing to sell them Spud. I think Jim probably knew right away - but he is a newlywed, he's not admitting it now. He suggested that Mel go on our website and look Spud up. Poor girl, imagine her face when she looked up Spud and found his bio in our 'Gone, but not forgotten' section. "Well, we have his ashes." was Mark's excuse when I chided him for setting Mel up so badly.
To shorten up a story that is getting really long, Mark and I convinced the Geeks that their busy lifestyle wouldn't work with a puppy (and besides, he may be my only brother, but did he really think he was getting a Grover/Kara puppy???) but offered them Oreo.
Oreo has been retired for a couple years and although she is a very special girl that we both adore and didn't really want to see leave, we knew she would be perfect for Jim and Mel and that she would love that sort of retirement home. Emails flew back and forth about her age, her desire to eat cats and such, but eventually it was all sorted out and Oreo headed down to Calgary with me in mid July to join her new family.
I'm happy to report that, as we expected, things are going wonderful. Oreo loves her new family (even the cats) and they all love her. We are thrilled.
Mel is still vowing revenge on Mark. I've advised her not to poke a hornet's nest, but I don't think she is paying attention. I'm sure she will learn in time.
Karen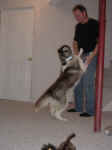 Yay! Dad's home!!!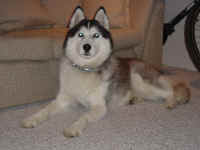 At home in the basement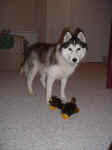 In the basement with my new friend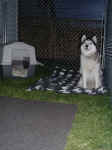 In my new outdoor kennel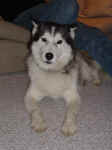 Mom, I'm giving you "Oreo Ears" because I'm tired of pictures!!!