About Us - Mark & Karen Ramstead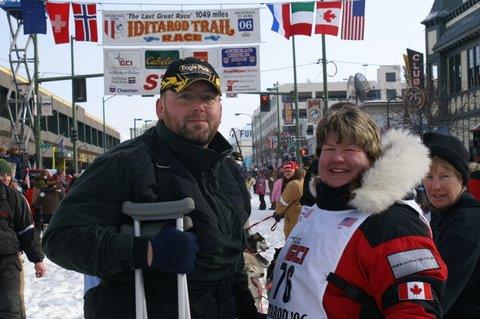 Mark and I got our first Siberian Husky from Jackie and Chris Marshall of Meomar Kennels in Invermere, BC in 1988. At the time Mark had been offered a job in Grande Prairie, Alberta and wanted to pull up our stakes in Calgary and move. I wasn't keen and as a bribe, he offered to buy me a purebred dog. It worked. I spend the next 3 months researching the different breeds of dogs and deciding what I wanted. In a strange twist of fate, within 3 weeks of deciding that it was a Siberian Husky that I wanted I ended up in Jackie and Chris' dog yard on an unrelated matter! Before leaving that day, I made arrangements to purchase Meomar's Miss Liberty, a 2-year-old black and white bitch. Six months later, in December, I went back to get Libby bred. 'Come on', Chris said, 'come on a training run with me.' We double sledding behind a 14 dog team and I remember every second of it! I seriously felt things 'clicking' into place – this was 'IT' for me. In February, our first litter was born. We kept 3 pups from that litter, enough for a team. They went on to become Ch. NorthWapiti's Bravo TT, NorthWapiti's Charlie CD, SD, TT and NorthWapiti's Alpha CD, SDX, TT. I well remember the night in the winter of 89/90 hooking up Libby and the 3 yearling pups and going on a 1-mile trip around our subdivision. It took 1 hour, Mark and I took turns riding and running beside the sled, but it was heaven! The following winter Meomar's Blunder came to live with us. He really turned our team around with his serious, focused work ethic!
In looking for a stud for Libby's second litter, we met the folks who would go on to strongly influence our lines and become our show ring mentors and good friends, Bob and Loreen Bridges of Chuchinka Kennels in Prince George, BC. Libby's breeding with Multi BIS, BISS CH. Chuchinka's Shawn Boy SD produced a litter of 7 including Ch. NorthWapiti's S.S. Minnow SDX, TT, Ch. The Professor of NorthWapiti CD, SDU, TT (Spud), Ch. NorthWapiti's Mr. Thurston Howl SDU, NorthWapiti's Gilligan SD, and NorthWapiti's Little Buddy SDU. In 1992, we acquired a 10-week-old pup from Bridges. From the beginning, I knew there was something about this pup! 'Breezy' would turn out to be very special indeed!
Throughout this time, we continued to run dogs mostly in sprint races. In 1994, Bob suggested I try a 54-mile race in Quesnel, BC. You can imagine our delight when not only did I have the time of my life – we also WON!! The following year we moved up to Quesnel's 120-mile race – finishing in 3rd spot. The next year was an incredible one for us! In February of '96 we participated, and finished 4th in the Race to the Sky 300 in Montana – a basically, unheard of accomplishment for a purebred team!!! In May we hit the show ring again. Breezy shocked the life out of us by taking 2 Group 1sts and a BEST IN SHOW (owner handled – of course!). During that summer she went on to over 1 dozen more Group placings, including a second Best in Show. She finished the year #6 Siberian Husky in Canada.
The next two years were not as kind to us. We struggled trying to juggle 2 – full time jobs, the kennel, and other commitments. Everything suffered. We realized we either had to 'Go Big or Stay Home'. So in spring of 1998 Mark obtained a job in Athabasca, Alberta. We packed up the kennel, I closed my camera shop, and we moved to Perryvale, a small community outside of Athabasca. We were now committed and focused on one thing – Iditarod!!! In 1999, chasing that goal, we went up to Alaska to run 2 Iditarod qualifiers, the Knik 200 and Klondike 300. I completed both and the Iditarod was within sight! In March of 2000, I became the first resident Canadian woman and the first Canadian purebred team to participate in Iditarod. Unfortunately, I had to scratch from the 2000 race in Shaktoolik, but in 2001 we came back and accomplished our goal of getting a big, strong dog team to Nome – finishing the 1151 mile trail in 14 days, 23 hours with 15 of the 16 dogs I started the race with. Since then I have gone on to participate in another 6 Iditarods, finishing 3 more times.
Our kennel has now grown to around 70 dogs. In addition to our original Meomar and Chuchinka stock, we also have dogs from Earl & Natalie Norris (Alaskan), Vivian Delude (Kainai), Karen Yeargain (Tumnatki) and Bob Chulpach (Chlout) – all blended into a line that by now is uniquely 'NorthWapiti'.
We continue to get out to shows. We have finished over a dozen dogs achieving well over 30 Group Placements along the way, as well as many placements at National Specialties, both in Canada and the US.
NorthWapiti dogs are now in working/show homes around Canada, the US and the world. It is extremely gratifying to us to watch dogs from our lines do well on the trail, in the conformation ring and in the obedience ring
Karen Ramstead