Willow to Skwentna
I know that some mushers charge for their Iditarod journals or only tell the tales in books, but I feel so much gratitude and thanks to all of you who support and follow our adventures that I think I owe all of you these stories.
As you read these entries, I ask you all to remember that none of it could have happened without the support and interest of each one of you.
Please never underestimate how thankful I am.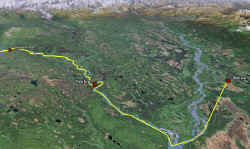 The trail from Willow to Skwentna
The team moved strong and steady out of Willow. My feeling was that I was in exactly the place I was meant to be. There was no nervousness, nor fear – just contentment and happiness to be out on the trail.
The atmosphere of the fans was different than in previous years. The 'Show' was almost over, most were keen to get home before dark and they were either on the trail home or packing up. I passed more snowmachiners headed back to Willow then I thought snowmachines were in the state. I'd come over a hill and see a PACK of 20 or 30 machines headed my way. It was often unnerving. Snowmachiners are for the most part gracious and thoughtful around dog teams, but some continue to bear down the trail towards you, giving no clear indication they have seen you and are going to give you the trail until the last minute. I'm sure they don't realize how scary this can be to mushers. I was just glad I had taken my blood pressure medication that morning.
As I got closer to Yentna we were well into dusk and although I would have rather continued to travel without my headlamp, I figured it wasn't wise with all the traffic on the trail and stopped to put a few flashers on the dogs and strap on my lamp.
The team continued to move strongly.
Most years my race plan is to drive the team straight through to Skwentna. However, this year Mark and I hadn't made our yearly trip to the Roadhouse and as it had been quite awhile since the dogs had done an 80+-mile run, I wasn't sure if it was wise to make such a long run on the first leg of the Race. I had left Willow with a 'Plan A', 'Plan B' and 'Plan C' and figured I'd figure out which one to use based on how the team felt once we were out on the trail. As they were still strong and happy, it was an easy decision to forego 'Plan C' and pass through Yentna. I stopped only long enough to have my vet book signed, turn over my bib, autograph a few posters, and sign in/out.
'The Chicks' – Snickers and Dasher – did a great job ignoring all the distractions in the checkpoint and left with no problems, however within a few hundred yards of leaving I ran into one of my biggest Iditarod pet peeves.
Let me first quote a couple race rules…
Rule 26 -- Parking: A musher must select a campsite off the race trail so that the team cannot interfere with other teams, i.e., no snacking of dogs on the trail. A musher needing to stop momentarily must not interfere with the progress of another team. Teams must be parked at checkpoints in places that do not interfere with the movements of other teams and mushers. A musher is responsible for properly securing an unattended team. No parking or camping is permitted within one (1) mile of checkpoints or villages.
Rule 28 -- Litter: No litter of any kind may be left on the trail, in camps, or in checkpoints. All material remaining in checkpoints must be left in designated areas. In localized holding area and on the trail, excessive left over dog food is considered litter. For purposes of these rules, straw is not considered litter. Straw must be removed from plastic bags before it is taken from the holding area at checkpoints.
Now, many mushers, myself included will hand out a quick snack on the trail as long as there are no other teams around. Dogs will in seconds clean up their snacks and even if a piece gets left behind, it is really no big deal. However in recent years it has become a practice for many mushers to stop and lay down full scoops of kibble on the snow for each of their team members. I guess often the dogs either don't feel like or don't have time to eat all the kibble and these mushers drive away leaving many large piles of kibble on the trail behind them. I see this practice being in violation of both the above rules, but that doesn't seem to matter to these mushers – and to be honest, Iditarod never enforces those rules, so why should it??
My dogs happen to travel better when a little on the hungry side and I run my race on a schedule that takes advantage of that and has them napping on full stomachs. Add to that that my dogs have great appetites even at the worst of times and you can imagine what happens when I run into these piles of leftover food. My dogs are very well trained, but some temptations are too much, even for well-trained teams!
I've complained many times – and even come into checkpoints with steam coming out of my ears over it – but Iditarod officials maintain they don't have any way to police this rule. (I actually don't buy that, if you have a rule, you better figure out a way to ensure it is enforced, but …whatever.) (I wonder if the musher featured doing this on the trail outside of Shaktoolik in the OLN coverage of this year's Race was censured or even spoken to about it?). Anyway…
Just outside of the Yentna checkpoint I ran into someone's left over food piles in the middle of the trail. A solid wasted 5 minutes of dragging my team and swearing at mushers in general passed before we were underway again. A few hundred yards down the trail ran us into another set of food piles. Grrrr……
'Plan B' had been to stop somewhere outside of Yentna for a couple hours or so to break up the run to Skwentna and that was actually the plan I was favoring. But after everyone getting out of their nice traveling mindsets at the rule-breaking food piles, I wanted the team to get back into 'synch' before considering taking any significant break. I traveled a few miles and stopped to quickly hand out snacks and ruffle dog ears. They were obviously still spunky and happy, so I decided to just head up to Skwentna.
Part way to Skwentna, along the river is the small community of McDougall. There were a number of now-abandoned campfires; however, a few still had enthusiastic race fans. The group that last year advertised (and delivered on the claim) the 'Best Hot Dogs on the Iditarod Trail' was back – and I stopped for 30 seconds to visit and grab a 'dog'.
A few miles later we came to a 'y' in the trail. There were no markers in sight (really, as long as you stay on the river, you are usually fine) and 'The Chicks', especially Snicks, really wanted to head to the left. I was pretty sure the usual trail headed right, but decided to trust the dogs. Even if they were wrong, the trails would eventually hook up again. I hadn't counted on the overflow though.
We went about a half-mile and the sled started to bog down in soft snow with water underneath it. I put a foot down to give a helping push, but I was immediately in water almost up to the top of my boot. The trail we were on had deteriorated into just a small snowmachine trail, but trying to turn them around in this would have been a mess, as I could not walk on the trail at all. I saw a few headlamps moving easily along on the far right side of the river and had a few ungracious thoughts about my leaders. Then I spotted another snowmachine trail crossing straight across this one a little ways ahead. In my best 'everything is great – we aren't in any kind of a jam' voice, I encouraged the team forward. Snickers redeemed herself for getting us on this trail by taking the 'Gee' onto the tiny cross trail without hesitation – which was good, 'cause I couldn't have walked up there to pull them onto it. In a few sled lengths we were back on solid ground. I stopped and went up to 'happy up' everyone before getting underway again.
The rest of the trip was pretty uneventful and I pulled into Skwentna at 12:49 after just a little over 7 hours on the trail.
Due to a number of teams all pulling in at once and getting 'stuck' behind a musher that was raiding their drop bags before heading straight through town, it took about 10 minutes before we got into our parking spot. Frustrating, but really no one's fault.
The dogs devoured their meals and settled onto their straw beds. The vets checked them over and told me what I already knew – 'no problems!'. Once they were all settled and my drop bags and sled were organized, I hiked up to the checkpoint building for some great food (there is ALWAYS great food for the mushers in Skwentna) and maybe even some sleep. Nice concept, but sleep just wouldn't come.
I did an interview with Paul from KTUU. Paul is out on the trail every year and he is a really nice guy. He gets about as much rest as the mushers on the trail, but he is always upbeat and asks good, intelligent questions. I can't imagine ever declining to do an interview with him.
I drank lots of Tang and just enjoyed some down time before heading back out. As I left the checkpoint building, it was getting light and I watched a bald eagle fly loops over the dog teams while I was waiting for the outhouse.
A TV crew followed me down to the river and filmed while I puttered around the sled and got ready to go. When I asked him, Hector led the team in song for the cameras before we finally pulled the hook to leave.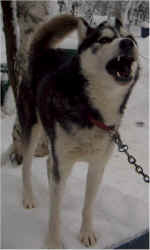 It was right around 8 am and we had had a nice 7 hour rest.
Updated: Monday 5:40am AST
Pos
Musher
Checkpoint
Time In
Time Out
Dogs
Rest
Travel
Previous
Checkpoint
Previous
Time Out
Speed

Status

1
Bryan Bearss/3
Skwentna
3/05 21:14:00
3/05 21:19:00
0:05
3:32
Yentna
3/05 17:42:00
9.60
24 8
2
Ramy Brooks/16
Skwentna
3/05 21:41:00
3/05 21:46:00
16
0:05
2:41
Yentna
3/05 19:00:00
12.70
24 8
3
Melanie Gould/23
Skwentna
3/05 21:45:00
3/05 21:50:00
16
0:05
3:29
Yentna
3/05 18:16:00
9.80
24 8
52
Jamie Nelson/79
Skwentna
3/06 00:30:00
16
3:47
Yentna
3/05 20:43:00
9.00
24 8
57
Karen Ramstead/76
Skwentna
3/06 00:49:00
16
Yentna
24 8