Another part of the 'bottom line' of racing our team of Siberian Huskies is the cost of transportation. With the increase in the cost of fuel over the past few years, the cost of transporting our team has risen significantly.
This year, our plans to participate in the Yukon Quest added another dimension to our race expenses, as our truck was scheduled to travel to Fairbanks and back for vet checks, food drops and the start - then travel over 2000 miles, as Mark (whose broken ankle after the Knik 200 dramatically changed our plans) and Quest handlers are required to drive into each checkpoint on the Race (except Eagle, which is not accessible in the winter by vehicle) to pick up dropped dogs, left behind gear, and clean up my straw piles.
We owe our fans a lot and are perpetually grateful for their generosity. To help defray the impact of the price at the pump and extra required driving the sponsors below have stepped up to the task and created yet another way to aid our travels.
Many, MANY thanks to them and all of our sponsors. *WE* are their biggest fans!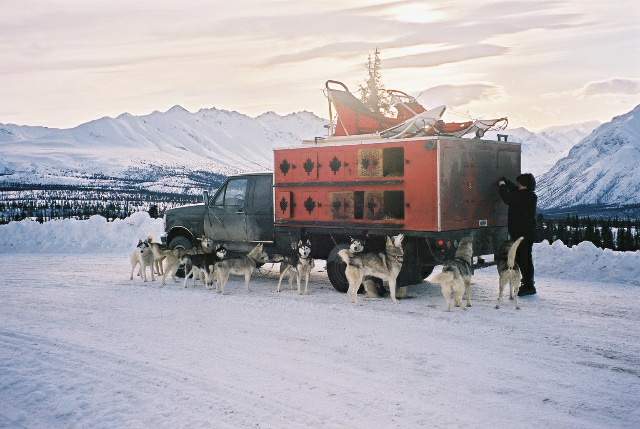 Contact us today to become a 'Fuel Team' Sponsor
any amount is welcome and we will gladly add your name here
for you to show to others!

We would like to thank the following people for becoming
Fuel Team Sponsors:
| | | |
| --- | --- | --- |
| | Betty Walden | |
| | Diane Douglass - Fremont, California | |
| | Heather Walls - Pittsburgh, Pennsylvania | |
| | Mary Curtis - New Jersey | |
| | Alice Fitzgerald - North Stonington, Connecticut | |
| | Mike & Mary Dillingham - Palmer, Alaska | |
| | Marlene Phillips-Daniels - Montana | |
| | Janna Taylor - British Columbia, Canada | |
| | Betty Walden - Texas | |

Donations can be mailed to:
Karen Ramstead
Box 9
Perryvale, Alberta
T0G 1T0
To read about our training and activities, please visit:


Karen's Diary


Our Yukon Quest/Iditarod 2006 Main Page