The Trail to Yentna and Skwentna
The 'warm fuzzies' that I got from the Race officially starting were quickly dashed away as I struggled to keep the sled upright in the heavy snow. The trench dug by the brakes of the 56 teams ahead of me tried to suck my sled in and tip it. The dogs struggled, especially little Kara, who also seemed a little put off by the crowds - she ended up back with my swing dogs, Moses and Grover. I could feel the crowd collectively gasp as the whole front end of the team threatened to tangle. I stomped as hard as I could on the brake and that bought the leaders and swing dogs enough time to sort themselves out. We were off and running again.
We had trained on almost the same version of this trail a few times this winter, so the dogs knew where they were going and moved out steadily. There was only one intersection that they balked at briefly, wanting to go towards the Rolly Creek Trail that we had always taken to the river during training.
As time wore on I was amazed that more teams had not passed us, only Cim Smyth had gone by us before the river - very different then when we started from Willow in '01. Eventually Charlie Boulding caught up and passed, and as time wore on a few more teams. That actually relieved me, I was worried up to that point that I was letting the dogs move out too fast for the early part of the Race.
Now I began to focus on another worry - I had to pee. On an open river with crowds around every corner and other dog teams in front and behind you, this was a perplexing problem indeed. Just before the junction of the Big Su and Yentna River my prayers were answered. The group standing on the side of the trail waving and cheering included none other then Ted and Deb Norris, Natalie's youngest son and his wife. I stopped the team, QUICKLY snacked them and asked Deb to stand on my brake while I ducked behind the umbrella they had set up to shelter their 'facilities' for their 'tailgate' party. Ahhhh.
The entire trail to Yentna was scattered with fans. Some had come on snowmachine, some skis, some by plane. The river was just buzzing with activity! Many commented on how beautiful my team was as we passed by - that made me smile - 'cause I think they are beautiful too! Of course, I also think they are clever, tough, hard working.but I appreciate that it is hard for a spectator to judge all that as they watch us pass by. *G*
I was surprised at how quickly we arrived in Yentna Station. The 'Plan' was to blow through and head straight to Skwentna, as Mark and I had done in training just a few weeks prior. I hoped my leaders (now Grover and Kara) agreed and were willing to pass all the teams that were sure to be camped at the Checkpoint.
We signed in and out at the same time. The vet that waiting with the checker commented that the team looked good and signed off my vet book. I pulled the hook and off we went. The dogs slowed and gawked a bit at the teams as we passed, but kept right on going. The noise and general ruckus in Yentna reassured me that the dogs would have gotten no rest there and the decision to go on was a solid one.
Just a few minutes out of the checkpoint I caught up with and passed a team that is significant to me - Wayne Curtis. Wayne was running the only other team of Purebred Siberians in the Race this year. Now, first off I have to say that I love this breed more then anything else and I am very happy to see other Siberian teams on the Race and doing well - however I am also human and YES, I wanted to beat Wayne! I wanted Wayne to have the best Iditarod of his career, but I also wanted to get to Nome before him! Wayne and I said "HI" and he made some very gracious comments about my team.
Many teams were camped along the river, so we passed some and were passed by a few on the move, like Aliy Zirkle and Vern Halter.
I stopped and snacked the dogs again. They were in great spirits - happy to eat and then to get moving again.
Just as it was getting dark enough to think about putting a headlamp on we pulled into Skwentna.
I was, frankly, a little scared when I noted I was the 23rd musher into the Checkpoint. I knew I wouldn't stay in this position for long, but I did worry some. Why weren't more teams coming straight through? Was it that foolish a move? I reassured myself that my Race Plan and my team were solid. Something that was confirmed as the dogs attempted to drag the sled, the checkers and I around as we tried to park them - running the 70 miles straight to Skwentna had taken nothing out of them.
As of Sunday, March 7th @ 5:13pm AST
Karen was out of the Yentna Checkpoint in 33rd place.
Place
Checkpoint
Time from Previous Checkpoint
Rest Time
in Checkpoint
Status:
Dogs
Layovers
33
Yentna
3:58
00:05
Left: 03/07 15:55
16
24 Hr 8 Hr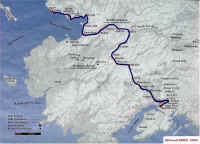 Karen was into the Skwenta Checkpoint in 23rd place.
From Skwentna, the trail heads through thin stands of
spruce and alder to Finger Lake, 45 miles farther along the trail.
Place
Checkpoint
Time from Previous Checkpoint
Rest Time
in Checkpoint
Status:
Dogs
Layovers
23
Skwentna
3:32
Resting

16

24 Hr 8 Hr