Knik 200 - Bib Draw
For years Mark has teased me about my back luck drawing bib numbers at races. I usually like a nice mid pack number, but whatever part of the pack I'd desire to be in – I would draw a totally different number.
Last night was the musher's meeting and bib drawing for the Knik 200. A record (I believe) FIFTY-FIVE mushers signed up, including a number of former Iditarod and Quest Champions (Martin Buser, Jeff King, Lance Mackey, Dean Osmar, John Schandlemeirer). Like many kennels in the area, we actually have 2 teams entered in the race. That's right, in addition to my team, Mark is running a team. This is completely Mark's own idea. He knows the trails and just wants to do a 'camping trip' in a race setting with our rookie dogs. It will be a great experience for them and I'm very pleased Mark wants to do this.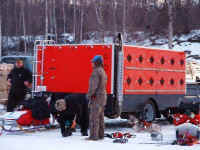 BOTH mushers getting ready for the Knik 200
(Photos by Mary Dillingham & June Price)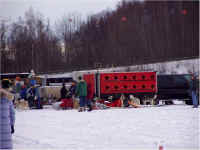 Truck & Teams
Sure enough, rather then a bib number in the mid twenties or thirties that I would have desired, I drew bib 10. Oh well. Mark would have been happy with bib 55, as he doesn't want all those big name teams thundering by him early in the race. He drew bib #1. He just lost the right to ever tease me about drawing a bad bib number again.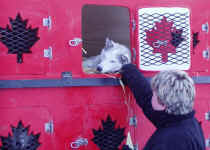 Pre-race pep talk & ear rub for Nahanni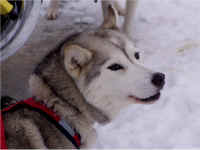 Snickers
After some discussion, we decided that Mark would just 'miss' his starting position and start at the back of the pack. Unfortunately, his clock will start when his bib number is called, but as he isn't 'racing', he doesn't care that his time will be at almost 2 hours before he even starts the race.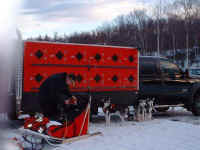 Bib #1....
Mark's Team includes:
You can follow the race at www.knik200.com - just remember that many of the mushers – including Mark and I may have different agendas in the race then winning. Many are using this as a training event and therefore not really 'racing to win' – so results may not be as you expect.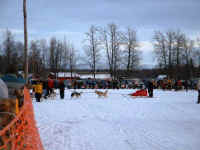 Ready to race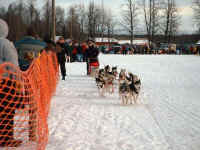 Here they come...Kara (left lead) & Dasher
(her daughter in right lead).
Anyway, it is quarter to six and dogs need to be feed, the truck needs to be finished packing and we have to get on the road.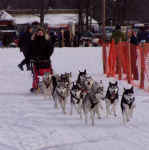 They're off
Karen's team includes:
!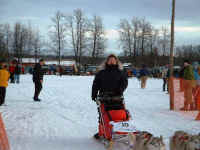 Bib 10...
Talk to you all in 200 miles or so.
Karen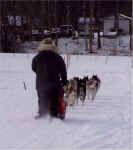 There they go...
(As always, thanks to Kim of Kelim Siberians for her uncanny
ability to recognize & label dogs regardless of the angle!)

Photos by
Phil Richey
www.tracksofalaska.com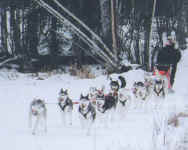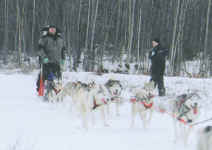 Karen's & Mark's teams as they pass near GB's cabin on the trail to Skwenta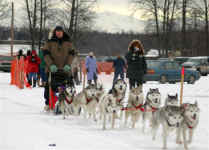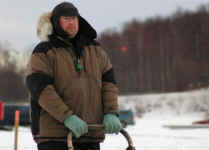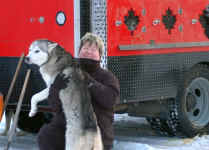 2006 Knik 200 - "Happiest Musher"
Award Winner - Karen Ramstead