Swing dogs are the dogs right behind the leaders. Normally the dogs here are also fully trained lead dogs or leaders in training. It is their responsibility to 'swing' the team around corners! Having a strong 'Front Four' is a real plus in a race!
Team dogs make up the bulk of a dog team. Lead dogs, swing, and wheel dogs all get chances to take a break from the other positions and run in the team! One of the most valuable spots in the team is right in front of wheel. I generally use this for dogs that are sore or a little ill, as they are close enough to keep an eye on but not in the demanding wheel position. In the middle of the team hang out the big powerhouses in our group.
Wheel dogs are the power house of a dog team. The dogs immediately in front of the sled, they have one of the most physically demanding jobs in the team! Traditionally, the biggest, toughest dogs on the team are used in wheel. We do things a little different, though - I like a little smaller and very athletic but still tough dog for this position. It is very important to rotate the dogs out of wheel regularly - wheel dogs are the most prone to back injuries.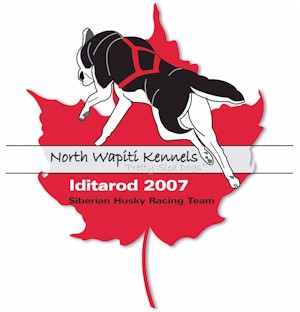 Happy Feet Sponsors
&
Sponsor-A-Dog Sponsors
(Includes pictures and brief descriptions of team candidates)
Click this link for information on currency exchange rates.