North Wapiti Siberian Husky Kennels
Where are they now...?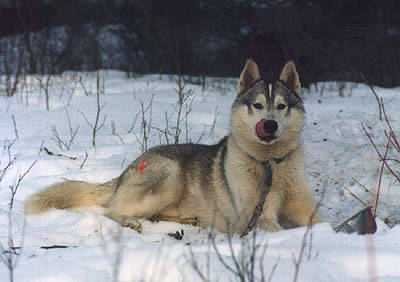 "NORMAN"
Ch. NorthWapiti's Against All Odds - Born: November 15, 1993
(Ch. NorthWapiti's Mr. Thurston Howl SDU x NorthWapiti's Ginger Grant)

Norman has been special since his difficult and unique entrance into the world. He was a Pup in Group winner and Group Placer as a puppy and placed in the Group again the one weekend he was shown as an adult! He ran lead, although his size sometimes hindered him in races. Where he excelled was in fall training. We fondly claimed that Norman 'ate hills' and taught this great work ethic to the rest of the team during training.
Norman now lives with Sue and Richard at Willowbend Siberians.

Norman in the News



November 15, 2006 - Happy 13th Birthday



Click on the paws above to follow the team back to our main page...