North Wapiti Siberian Husky Kennels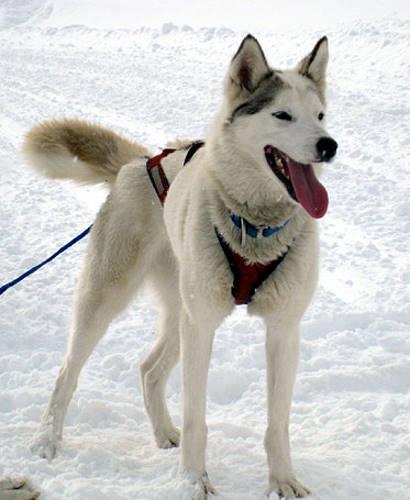 "BANG"
NorthWapiti's Bang of Carmacks - Born: July 27th, 2005
(NorthWapiti's Draco x NorthWapiti's Nahanni)

When our friend, Kathy Carmichael's life situation changed Bang came back to our kennel. It became very apparent very quickly that we should have never let her leave in the first place. She is a top notch leader and often found at the front of our teams. Once we get her completely straightened away on her commands, expect to see a lot of this pretty piebald gal!! A superstar, for sure!!
Major Races
2012 Iditarod
2011 Eagle Cap 200, Rail Trail 200, Percy de Wolfe Memorial 210, Neckbone 120
2008 Race To The Sky

Current Working Status
Race Veteran
Offspring
with NorthWapiti's Charge (Missy, Molly, Scud, Squib, Mighty)
Bang's Photo Gallery & Pedigree
(click to enlarge image)
NorthWapiti's Draco

NorthWapiti's Butch Cassidy, SD

CH. The Professor of NorthWapiti, SDU, CD, TT

BIS/BISS Can. Ch. Chuchinka's Shawn Boy, SD
Meomar's Miss Liberty
Meomar's Sunshine Coast Orca

Meomar's Ojibawa
Meomar's Guildenstern
NorthWapiti's S.S. Minnow, SDX, TT

BIS/BISS Can. Ch. Chuchinka's Shawn Boy, SD

BIS/BISS Can. Ch. Shisaido's Satinkist Swordsman, CD
Chelyuskin's Mila, S.D.
Meomar's Miss Liberty

Northomes Sayak of Spindrift
Meomar's Quick Lynx
NorthWapiti's Nahanni

Alaskan's Skookum of Anadyr

Alaskan's Snowstorm Of Anadyr
Alaskan's Jodi Of Anadyr
Alaskan's Snowflake Of Anadyr
Alaskan's Mandy Of Anadyr
Shjegge Manns Moose
Alaskan's Koe Of Anadyr
Alaskan's Kessa of Anadyr II

Alaskan's Solo Of Anadyr
Towmans Yakutat
Alaskan's Chanu Of Anadyr II
Alaskan's Nuliga Of Anadyr
Alaskan's Jafet Of Anadyr
Alaskan's Klondy Of Anadyr


Click on the paws above to follow the team back to our main page...