Race Coverage Links
There are many fans who follow the Iditarod race each year and an ever growing fan base who follow Karen in particular. Below is a list of links that various fans pointed out during Iditarod 2007.
North Wapiti (specific coverage)
http://www.adn.com/iditarod/race_2007/features/story/8692193p-8590246c.html
A couple pictures you will recognize the dog or the truck! (DQ)
http://www.alaskasworld.com/NEWS/2007/03/images/Iditarod/index.html
Nice picture of Karen on Yahoo in Iditarod Slideshow, but one of the dogs is mis-labeled an Alaskan Husky (MA)
Karen's team on sleddogart.com (KB)

http://www.sleddogart.com/race_images/Iditarod%202007/images/2007_idit_00%20(30).jpg

http://www.sleddogart.com/race_images/Iditarod%202007/images/2007_idit_00%20(31).jpg
British Newspaper "The Daily Mail" has Karen as its lead picture for Mon. March 5! (CC)
http://www.dailymail.co.uk/pages/galleries/galleries.html?in_page_id=711&in_gallery_type_id=3
Karen really does have a worldwide following.
Old photos on Alaska Stock.com of Karen, but perhaps some new ones will show up :)
Click to view
Karen photos from Iditarod (unable to maintain more specific links & descriptions)
Karen (Bib #76?) 2006
Karen (Bib #38) 2003
Old truck with Marcos in Anchorage
Karen's Iditarod 2001 team on the move
Click on the magnifying glass icon below the picture to see original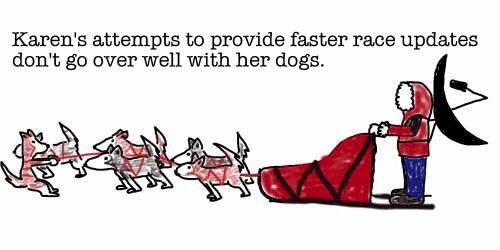 In response to long periods of uncertainty during Iditarod...
Iditarod (general coverage)
| | | |
| --- | --- | --- |
| Popular Links | Alternate Links | Checkpoint Photos |
Iditarod in General - Main article on the Yahoo! (CH)
Here is the direct link:
http://news.yahoo.com/s/afp/20070305/ts_afp/afplifestylesledding_070305162428
Ceremonial Start Photo on Yahoo - Jon Smidt's Siberian Husky Team
Melanie Gould mushing up Rainy Pass in 2004 - What a challenge!